Virtual Symposium on "Redefining the Capital Projects Business Model Operating System 2.0"
Jointly organized by CII, USA and AACE India Section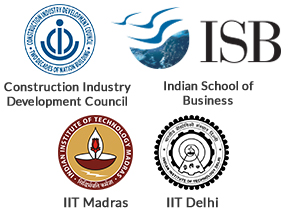 The Construction Industry Institute (CII), Texas Austin, USA and the Construction Users Roundtable (CURT) evaluated different delivery methodologies designed for capital projects. These delivery methods focused on business value versus capital cost efficiency. This initiative, entitled Operating System 2.0. (OS 2.0) is a standalone initiative sponsored by a number of organizations including CII and CURT. Several of these methodologies address effective control of projects.
THE OPERATING SYSTEM 2.0 INDUSTRIAL AFFILIATES PROGRAM (OS2 IAP) conducts research aimed at defining new ways of doing business in the capital projects industry. The goal is to unlock value blocked by today's engineering and construction practices. While the systems and work processes that manage capital projects have improved steadily in recent decades, the underlying business model binding investors with construction industry product and service providers is still characterized by a lack of trust, excessive friction in transactions, and burdensome financial waste — preventing real progress.
This session will be a highly interactive panel discussion addressing the possible future of project control with participation from:  Stephen P. Mulva, Ph.D., Executive Director-Construction Industry Institute (CII) at the University of Texas at Austin; Martin Darley FRICS CCP FAACE – Opportunity Shaping Team (OST) Lead, Chevron Capital Projects; and Stephen Cabano, President of Pathfinder, LLC, a project management consulting firm.
AACE India Section is anchoring this event to introduce OS 2.0 to Indian Industry
Combating the declining industry performance and poor project outcomes by creating a new commercial model for capital projects.
THE GOAL is to create a healthy and robust engineering and construction industry that works for all stakeholders. The status quo is unacceptable.

A healthy industry eliminates waste. Inefficient transactions are the largest source of waste on capital projects.
THE OS2 IAP will slash significant transactional costs and their negative effects on schedule, predictability, productivity, and quality, to enable greater capital efficiency as well as increased profitability for supply chain members.
Typical Sources of Transactional Waste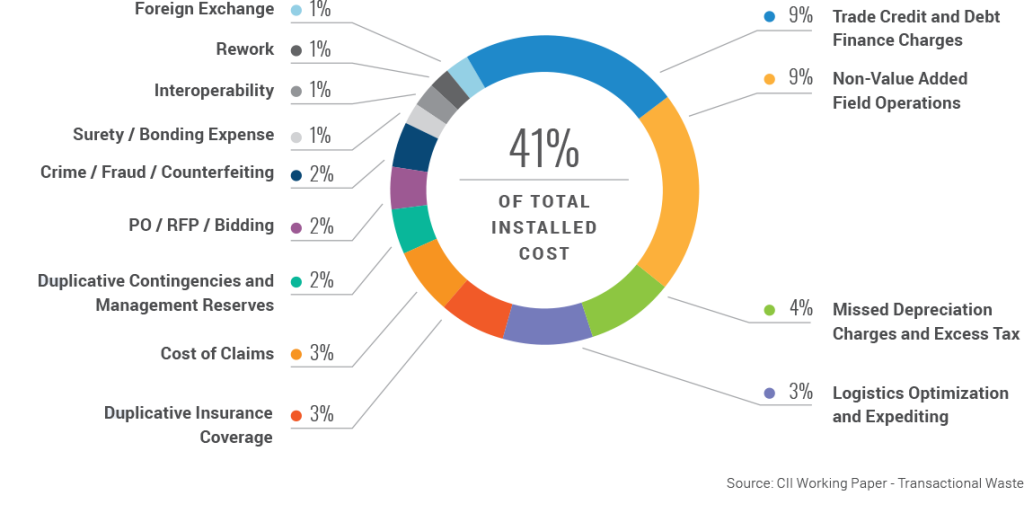 Saturday 21st November 2020 IST 9:30 to 13:00 Hrs
| Start  | Finish  | Programme Details | Speaker |
| --- | --- | --- | --- |
| IST 9:30 | IST 10:45 | Presentation by CII Team | Dr. Stephen P. Mulva, Mr. Stephen L. Cabano, Mr. Martin Darley |
| IST 10:45 | IST 11:30 | Q & A Session with CII Team | Moderated by Dr. Ashwin Mahalingam |
| IST 11:30 | IST 11:45 | Tea Break  |   |
| IST 11:45 | IST 13:00 | Panel Discussion – OS 2.0 What is in it for Indian Industry | Dr. Chandan Chowdhury, Ms. Sabeena, Dr. J. Uma Maheswari, Mr. Kalyan Vaidyanathan |
For enquiry contact Ms.Joyce Sukul, Admin AACE India.             Email : admin@aace.org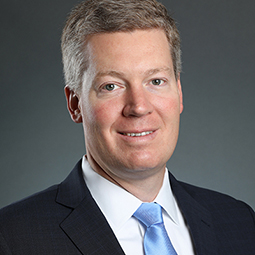 Executive Director, Construction Industry Institute (CII) USA
Dr. Stephen Mulva directs the Construction Industry Institute (CII), a research component of the University of Texas at Austin.  His current research projects are focused on improving the business outcomes of capital projects in most sectors of the modern economy.  In addition to his responsibilities at CII, Stephen has taught graduate courses in Construction Engineering and Project Management at the University of Texas.  Before coming to CII in 2007, Stephen taught Construction Management at Texas State University.  He has held industry positions at Fluor, Bechtel, Phillips Petroleum and as a project management consultant for ePM.
Stephen holds a Ph.D. in Civil Engineering (Construction Engineering and Management) from Georgia Tech and two degrees from the University of Texas at Austin: a Master's in Civil Engineering and a Bachelor's in Architectural Engineering.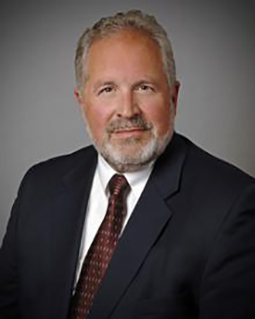 Member – Board of Advisors, Construction Industry Institute (CII) USA
Stephen holds a Ph.D. in Civil Engineering (Construction Engineering and Management) from Georgia Tech and two degrees from the University of Texas at Austin: a Master's in Civil Engineering and a Bachelor's in Architectural Engineering.Cabano is Member of Board of Advisors of CII and President of Pathfinder LLC, a project management consulting firm specializing in the planning, development and execution of domestic and international capital plant construction projects. With 30+ years of project engineering & project management experience in the industrial and commercial facilities industry, he's provided cost, scheduling, procurement, and similar project related services for owner and government clients in the Petroleum, Petrochemical, Chemical, Environmental, Pharmaceutical, Power, Mining, Industrial and Commercial industries in the United States and throughout the world. Pathfinder has offices in Cherry Hill, NJ; Houston, TX; and Calgary, AB, Canada.
Mr. Cabano earned his B.S. in Mechanical Engineering from Villanova University and is a member of the Association for the Advancement of Cost Engineering International (AACEI ®), Project Management Institute (PMI), American Institute Chemical Engineering (AIChE), American Society of Training and Development (ASTD), Society of Value Engineers (SAVE); member of the Construction Industry Institute (CII) & former Bd of Advisors Chair, and is a 2004-2012 Engineering and Construction Contracting (ECC) Association Board Member, 2006-2007 ECC Association Board Chair. He has also authored several articles for Chemical Processing, Chemical Engineering, The Voice (CURT), Refinery Today and PMI. Mr. Cabano has designed, developed and presented project management related training sessions for Pathfinder's Professional Development division and is an internationally recognized training instructor.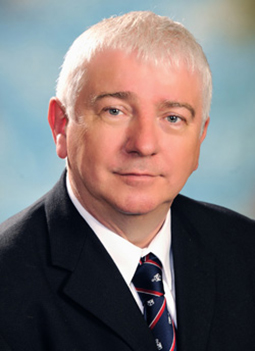 Opportunity Shaping Team (OST) Lead, Chevron Capital Projects
Martin is part of Chevron's leadership for opportunities during early conceptual development across the Chevron's diverse project portfolio. In this role, he is responsible for providing cost and schedule advice, in supporting the development of opportunities from identification, alternative generation, to concept selection.
Located in Houston, Texas, USA, OST is focused on all aspects of Chevron's resource development be it Downstream, Mid-Stream, or Upstream.
AACE International President 2014-2015 Martin has over 40 years' experience in Cost Engineering working in a variety of industry sectors, including Energy. He is Fellow of Royal Institution of Chartered Surveyors, Certified Cost Professional and a Fellow of the Association for Advancement of Cost Engineering
Martin began his career in UK as a quantity surveyor in North of England relocating as Regional Director with Faithful & Gould to US in 2001. During his 9-year tenure as Operations Director, Turner & Townsend USA, he began his decade of servant leadership to AACE. Joining Chevron in 2011 he has worked their SASBU (Southern Africa Strategic Business Unit), CUE (Chevron Upstream Europe), before taking on the centralized role in Capital Projects. He has served industry in various capacities, including; JIP (Joint Industry Projects) on ISO 15663 – pts. 1,2,&3, co-author ECI (European Construction Institute) Value Enhancing Practices, and Vice Chair of ICMS (International Construction Measurement Standard)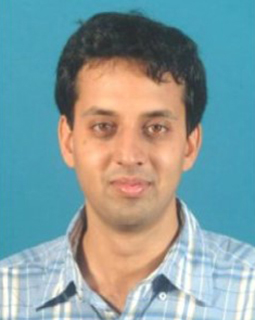 Professor, Indian Institute of Technology Madras
Dr. Ashwin Mahalingam is Professor at the Building Technology and Construction Management division of the Civil Engineering Department at IIT-Madras from where has also received a BTech in Civil Engineering in 1998. After his B.Tech, Ashwin proceeded to Stanford University for a Masters in Construction Engineering and Management. He then helped start up an internet based company in the USA called All Star Fleet, aimed at providing asset management services for construction companies.
Following this he returned to Stanford University to pursue a Ph.D on Infrastructure Project Management. His doctoral thesis focused on how institutional differences lead to increased costs and challenges on large infrastructure projects with international participation. Dr. Mahalingam's current research interests include Public Private Partnerships in Infrastructure, IT in Construction Management, Cross Cultural issues in large engineering projects, Sustainable Development and ways in which organizations react to the globalization of engineering services.
Senior Associate Dean, Indian School of Business
Professor Chandan Chowdhury did his MS in Mechanical Engineering and has a Doctorate from the Hungarian Academy of Sciences and Technical University of Budapest. Currently, he is a Senior Associate Dean and a Practice Professor of Operations Management and Information Systems at the Indian School of Business (ISB). He is also the Executive Director leading the (1) Munjal Institute for Global Manufacturing and the (2) Punj-Lloyd Institute for Infrastructure Management at ISB, the two institutes set-up with MIT, as an Associate Partner. Professor Chandan is also the Senior Associate Dean, heading all the PGP level modular programs.
Professor Chandan Chowdhury is also an Independent Director on the Board of Uno Minda, an Indian automotive multinational and Indian Institute of Management (Sambalpur).
Before joining ISB, he served three top multinationals as Managing Director and Country Manager. Dr. Chandan was a CEO and member of the Board of Directors at IFS India. He was also the Country Manager at IBM-Software Group (Strategic Accounts). Before joining ISB, he served Dassault Systemes over five years, initially as a Managing Director-India Geo and subsequently as Vice President-Global Affairs. Dr. Chandan has also been a member of the Board of Directors in Dassault Systemes (India) and other subsidiaries of Dassault Systems.
Professor Chandan has an excellent blend of academia and industry. During his last academic stint, he was a Professor, Dean (Academy), Chairman (Board of Research), and Member (Board of Governors) at NITIE (National Institute of Industrial Engineering, established as a joint initiative between the United Nations and Government of India in 1963).
Professor Chandan has been the recipient of numerous awards, and his particular areas of interest are innovation and 'Technology-Enabled Business Transformation".
He is also an expert panel member at NITI Aayog (National Institution for Transforming India, India's Planning Commission), developing the Manufacturing India@2035 roadmap. He is passionate about leveraging technology to make the world a better place to live in.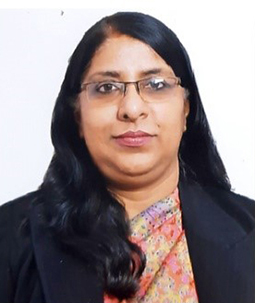 Executive Director, NBCC (India) Limited
Ms. A Sabeena joined NBCC on 21.05.1989 as a Management Trainee and is currently ED (Engg) heading Project Management Group (PMG) at Corporate Office, New Delhi. She is a graduate in Civil Engineering from Govt. College of Engineering, Thiruvananthapuram, Kerala and MS (by Research) from IIT, Chennai. In her 30 years of service in NBCC, she has worked in various capacities pan India. She was CEO of NBCC Services Ltd (NSL), a wholly owned subsidiary of NBCC, from May 2016 to May 2018. The client base exponentially grew during her tenure at NSL and she had been instrumental in spearheading NSL to great heights, when projects for EXIM Bank, Competition Commission of India, 15th Finance Commission, GST Council etc. were executed and delivered in short span of time to the entire satisfaction of the clients. She is also CRO (Chief Risk Officer) of NBCC and is actively involved in setting up framework for ERM and PRM. Apart from heading PMG at corporate level, Smt. Sabeena also heads few projects of South India as Regional Business Group Head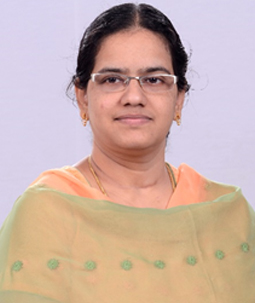 Associate Professor, Indian Institute of Technology Delhi
Dr. J. Uma Maheswari is Associate Professor in the Department of Civil Engineering at Indian Institute of Technology Delhi. She is very active in teaching Construction Project Management courses at IIT Delhi. She had delivered several lectures for academia and industry during outreach programmes as a Keynote speaker. She had graduated over 70 MTech and 4 PhD students in the area of Construction Project Management. Her passionate research topics are Design Management, Automation in construction and Digital Design – Construction. She was a recipient of Kusuma Outstanding Young faculty Fellowship offered at IIT Delhi. Recognizing her academic contribution, PMI India has conferred on her the prestigious PMI India Young Research Scholar Award in 2015. She also received the CIDC Vishwakarma Award for Outstanding Academician category offered by CIDC in 2018 for her research contribution.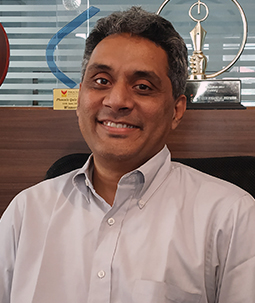 Co-Founder & CEO, Nadhi Information Technologies Pvt. Ltd.
Kalyan Vaidyanathan is the co-founder and CEO of Nadhi Information Technologies Pvt. Ltd., a company that is incubated out of the IIT Madras research park. He has nearly 20 years of combined experience in managing construction projects and enterprise software development, has won many awards and also has published widely. He won the 2015 Technologist Innovator award from the Construction Industry Development Council, Government of India. Earlier, he was named Entrepreneur of the Year 2014 by CII, Chennai. He has published widely on modern construction technology and lean construction both in national and international conferences. Recently, he co-authored a chapter on Cloud-based Collaboration and Project Management in the Construction 4.0 book.
Nadhi, a Nasscom Emerge 50, company, is a deeptech construction technology company that has developed an integrated project controls solution called nPulse. nPulse is now deployed in over 250 projects across 20 countries in India, Middle East, Africa, and South East Asia. Nadhi also has wide experience implementing lean construction practices pan India. Prior to co-founding Nadhi, Vaidyanathan has worked in various companies in the US for more than a decade. He holds an M.S. in Structural Engineering from Cornell University and is a Governor's Gold Medallist with a B. Tech in Civil Engineering from IIT Madras.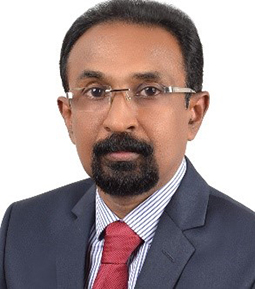 Dr Madhu P. Pillai is a Project Management specialist with more than 35 years of broad-based Oil & Gas, Petrochemical and Power industry experience in Operations and Project Management with a geographical spread of India, Nigeria, USA, Bahrain, Qatar, and Saudi Arabia. He has been associated as Projects Director with leading multinational organizations.
Dr Pillai has spoken at more than 30 International events; and Chaired few. He has been associated at Global Leadership Teams of many prestigious professional bodies; AACEI (USA), International Cost Engineering Council-ICEC (Australia), Project Managers Without Borders-PMWB (USA), Water Air Food awards-WAFA (Denmark), Center for Public Policy research-CPPR (India), to name a few.
Dr Pillai is an Engineer with post-graduation in Management and Ph D in Strategic Project Management. He is also a Fellow of many leading international organizations like, AACEI (USA), ICEC (Australia), IMCA (UK) and IEI (India).
Sponsorship Opportunities
Category
Amount in INR
(including tax)
No of Free Delegates
What you get
Platinum Sponsor*
₹ 3,00,000
5
Display of logo & 3 promotional video links in AACE India Website for 15 Months
Gold Sponsor*
₹ 2,00,000
3
Display of logo & 2 promotional video links in AACE India Website for 9 Months
Silver Sponsor*
₹ 1,00,000
1
Display of logo & 1 promotional video links in AACE India Website for 6 Months
Note: All sponsors logo will be published in the event brochure and mailers.
* For International Sponsors, this sponsorhship fee would be converted to USD + bank charges of 6% of USD would be added
About Construction Industry Institute, USA (CII)
CII, based at The University of Texas at Austin, is a consortium of more than 140 leading owner, engineering-contractor, and supplier firms from both the public and private arenas.
These organizations have joined together to enhance the business effectiveness and sustainability of the capital facility life cycle through CII research, related initiatives, and industry alliances.
CII Best Practices have been proven through extensive industry use and/or validation. CII Best Practices include the following 17 topics: Advanced Work Packaging, Alignment, Benchmarking & Metrics, Change Management, Constructability, Disputes Prevention & Resolution, Front End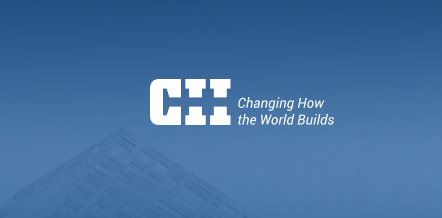 Planning, Implementation of CII Research, Lessons Learned, Materials Management, Partnering, Planning for Modularization, Planning for Startup, Project Risk Assessment, Quality Management, Team Building, Zero Accidents Techniques etc.
CII has also researched other practices and information topics, which have been organized into a Knowledge Base. CII's professional development programs help organizations to plan the development of new construction project managers by applying CII Best Practices and other competencies to the managers' professional development.
Please visit https://www.construction-institute.org/ to know more about CII.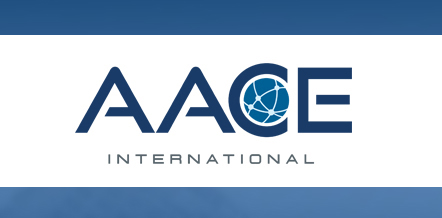 AACE International (AACE) is a non-profit professional body established in 1956 in USA, working in the areas of Cost Engineering, Total Cost Management, Earned Value, Forensic Claim etc. With 8,500 members in 100 countries, AACE International has been serving the Total Cost Management community since it is established. AACE International is committed to the constructive exchange of ideas between members, development of technical guidance and quality education and recognition of subject matter experts.

The members of AACE enable organizations around the world achieve their investment expectations by managing and controlling projects, programs and portfolios; we create value by advancing technical knowledge and professional development. Many global Engineering and Construction firms (viz. AECOM, Foster-Wheeler, Chevron, Raytheon, Bechtel etc.) have been successfully implementing Control techniques, using AACE's Recommended Practices on megaprojects globally.

AACE has been certifying individuals since 1976. AACE offers the following certifications: Certified Cost Professional (CCP), Certified Estimating Professional (CEP), Certified Forensic Claims Consultant (CFCC), Certified Scheduling Technician (CST), Earned Value Professional (EVP), Decision & Risk Management Professional (DRMP), Planning & Scheduling Professional (PSP), and technician level certifications: Certified Cost Technician (CCT) and Certified Scheduling Technician (CST). AACE International is a member of the Board of the Council of Engineering and Scientific Specialty Boards (CESB); AACEs CCP, CCT, CEP, EVP, and PSP Certification Programs are fully accredited by the CESB.

Please visit https://web.aacei.org/ to know more about AACE International.
AACE INTERNATIONAL'S INDIA SECTION IS REGISTERED AS "AACEI INDIA ASSOCIATION" (UNDER SECTION 8 OF INDIAN COMPANIES ACT 2013), A NON-PROFIT ORGANIZATION IN INDIA.
AACE had its presence in India since 2012 as South, Central and North India. However, in 2018 the three sections were combined to make one India Section. Since then, India section has ramped up its outreach to all regions in the country. AACE India Section has been working very closely with the prestigious IIT Madras since its launch. IIT Madras has given its consent to be the academic partner for AACE International in India. AACE India Section held two National level conferences in IIT Madras in 2017 and 2018 and an international conference in IIT Delhi in 2019.
AACE India conducts various programs for its members and industry through programs such as "Scuba, Pragya, Tenka, Certification Workshops etc.,".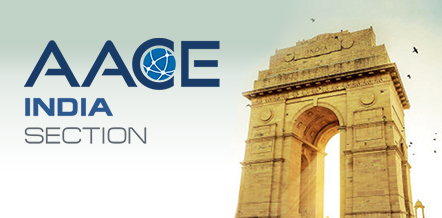 Dr. Koshy Varghese, Professor & Dean Administration, IIT Madras, Dr. Ashwin Mahalingam, Professor, IIT Madras, Dr. K.C. Iyer, Professor, IIT Delhi and Dr. Uma Maheshwari, Professor, IIT Delhi and Mr.Devi Prasad, Indian Economic Services (Retd.,) advise the board of AACE India Section
Visit www.aaceindia.org to know more about AACE India Section