Know more about the organization
AACE International is a member-driven organisation for project cost management professionals with over 7000 members in 100 countries. AACE is committed to the constructive exchange of ideas between members, development of technical guidance and quality education, and recognition of subject matter experts. AACE members work in a variety of disciplines and across all industries.
AACE has been active since 1956 when it was founded as the American Association of Cost Engineers. Today AACE is a global organisation and the name AACE stands for Association for the Advancement of Cost Engineering. The legal name since 1992 is AACE International.
For over 40 years AACE has been certifying individuals. AACE offers the following certifications: Certified Cost Professional (CCP), Certified Cost Technician (CCT), Certified Estimating Professional (CEP), Certified Forensic Claims Consultant (CFCC), Earned Value Professional (EVP), Decision and Risk Management Professional (DRMP), Certified Scheduling Technician (CST) and Planning & Scheduling Professional (PSP). AACE's CCP, CCT, CEP, CST, EVP, and PSP certifications are independently accredited by the Council of Engineering and Scientific Speciality Boards.
To be the gathering place and source of thought leadership for professionals who drive successful project and program delivery
To empower AACE members to drive projects to complete on time, on cost, and meet investment and operational goals. We arm our members with the technical tools and expertise to support successful projects and programs.
AACE International is pleased to introduce a new Certification Promotional Video.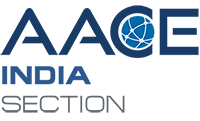 AACE India assistance in localization of AACE International recommended best practices to India.
 Assistance in training, certification and implementation of those best practices